Scenario 1: I have never applied to be a Grubhub Delivery Partner
If this is your first time applying to be a driver at Grubhub, even if you're an existing Grubhub diner, select "Sign up to deliver" on the home screen and follow the on screen instructions.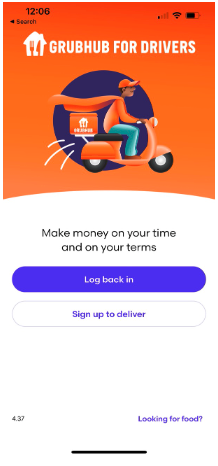 Scenario 2: I have previously driven for Grubhub, but not in the past 4 months.
If you have previously partnered with Grubhub but have not toggled available in more than 4 months, your account may need to be reactivated. To learn more about reactivating your Grubhub driver account, please check out our help guide.
Scenario 3: I received an email from
driverinfo@grubhub.com
that my account has been blocked.
If you received an email from driverinfo@grubhub.com indicating your account has been blocked, then your account has been suspended due multiple account violations. Follow the instructions in the email if you would like to appeal this action.
Scenario 4: None of the above.
If you are unable to log into your driver account and none of the above situations apply, please fill out this form for driver assistance.
Use the same email address you previously used to sign into your account

Select

I have delivered a Grubhub order > Login/Connectivity Troubleshooting >

Error when logging in to the app