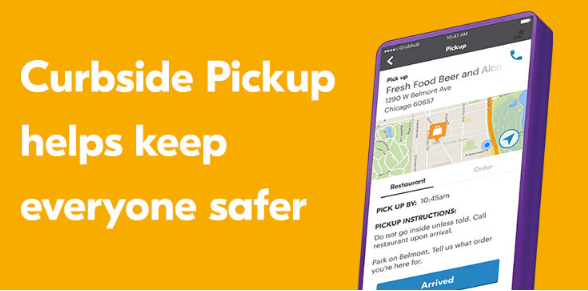 What is Curbside Pickup?
Curbside Pickup is a safe way to pick up orders from select restaurants. With Curbside Pickup you can wait in your vehicle and the restaurant staff with bring the order to you. This allows you to keep a safe distance from the restaurant staff and other Delivery Partners at pick up.
How will I know if it's a Curbside Pickup order?
After accepting an offer, carefully read the Pickup Instructions on the Grubhub for Drivers app. Curbside Pickup instructions will include, "Do not go inside unless told. Call restaurant upon arrival." The restaurant may also include other important pickup instructions, like where you should park.
How does Curbside Pickup work?
After you arrive at the restaurant, stay in your vehicle. Call the restaurant using the Grubhub for Drivers app to let them know you're outside and waiting to pick up a Grubhub delivery order. The restaurant staff will bring the order to you or provide other pick up instructions, so you don't have to enter the restaurant.
When completing a delivery, remember to follow the contact-free delivery instructions to protect yourself and the diner at drop off.
Read this article for more information on how to maintain social distancing while completing a Grubhub delivery.