Driver safety is of the utmost importance to us at Grubhub. If you're injured, or anyone's immediate safety is threatened, please reach out to your local emergency services.
If there is not an immediate safety threat but you can't fulfill an order, please select There's a Problem at the bottom of the order and follow the on screen instructions.
Please know, based on guidance from local law enforcement, Grubhub will proactively close markets when a market as a whole becomes unsafe for our delivery partners. In the event that this happens you will be notified directly by Grubhub by email and SMS. If you have not received this communication, your market is still open.
Example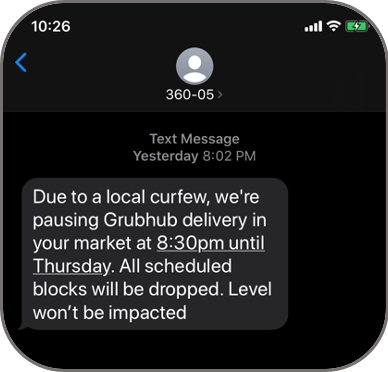 We welcome feedback and open communication. If you have local information to share please contact our support team by selecting Help in the navigation toolbar, then select Current deliveries.