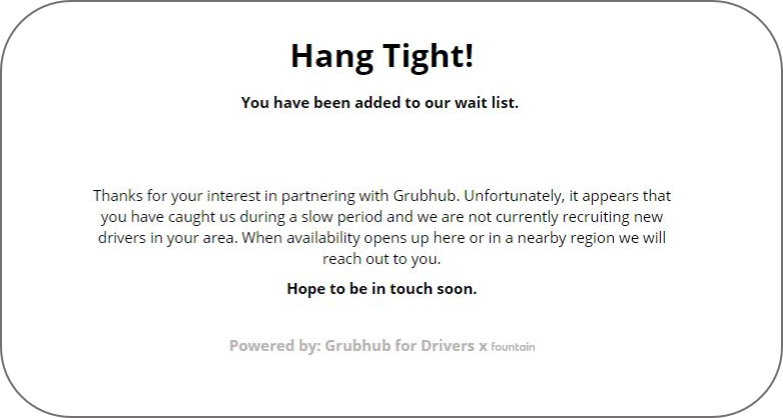 In order to help foster a positive experience for our delivery partners, Grubhub strives to avoid having too many drivers on the road at any particular time in our markets.
This means that occasionally we pause bringing on new drivers to provide our already existing delivery partners the best opportunity to earn.
If you have already submitted your information at driver.grubhub.com, we have your information and will contact you when there is availability in your region. There is no further action that you need to take at this time.
How long will I have to wait?
It's hard to say! Availability is market specific and Grubhub engages waitlisted applicants on a first come, first served basis. Should your wait exceed 30 days, Grubhub will check in with you to see if you'd like to remain on the waitlist or have your application removed.
Why would I want to remove my application?
Delivery partners can only have one active application at a time. If you'd like, you can opt to have your original application removed, freeing you to reapply in the future.
If I do this can I then transfer to my own market once I'm accepted?
No, transfers are for established delivery partners who move from one city to another.
You will have the option to continue waiting, and be added to your area's priority waitlist or we can remove your application and free you up to reapply in the future.