What safety services are provided by Grubhub for Drivers in partnership with RapidSOS?
Swipe for 911 → Connect directly with a 911 operator through the app. Simply swipe and tap to call. Your name, phone number and location details will be shared with the 911 operator to assist you.


Anxious Moment / Live safety agent (Voice) → Connect to a safety agent in the event you feel unsafe or anxious and want to speak with someone.

Anxious Moment / Live safety agent (Text) → Connect to a safety agent in the event you feel unsafe or anxious and aren't able to speak, but can text.


Will I be charged for using these services?
The services are free to use, however you may have to pay as normal for any emergency services dispatched, such as an ambulance. Your phone's carrier rates may also apply.
Are these new services all available 24/7?
Yes, you can reach a live safety agent while on deliveries 24 hours a day, 7 days a week.
What is a safety agent?
A safety agent is an agent trained in emergency situations to provide you with guidance and to ease your anxiety in any situation where you might feel unsafe or uncertain about your surroundings.
Are the safety agents employed by Grubhub?
No, the trained safety agents are provided by our third party partner, RapidSOS.
What delivery partner information is shared with RapidSOS and the 911 operator when I use a safety service?
In order to get the right support to you as quickly as possible, Grubhub will share your name, phone number, and location. Your communications to the safety agent or 911 operator may be recorded.
What if I do not want my information shared with the safety agent or 911 operator?
By using these services you are opting in to allow Grubhub to share your name, phone number and location. If you do not wish to share this information or have your conversation recorded through RapidSOS, please call 911 outside of the app.
Does Grubhub use data supplied via RapidSOS to track drivers?
Who is RapidSOS?
RapidSOS is an emergency response platform that securely links real-time data from smart devices to help first responders get the data they need to save more lives. We've partnered with RapidSOS to ensure you have support and peace of mind if something doesn't go as planned during a delivery. These new safety services provide you with in-app access to emergency services while you're delivering.
Where can I find the new safety services in the Grubhub for Drivers app?
When you are toggled on in the app and accepting offers, you can find the new service by clicking on the SOS icon on the top right hand side of your screen. This will take you to the Safety Services page. From there you can initiate any one of the three services.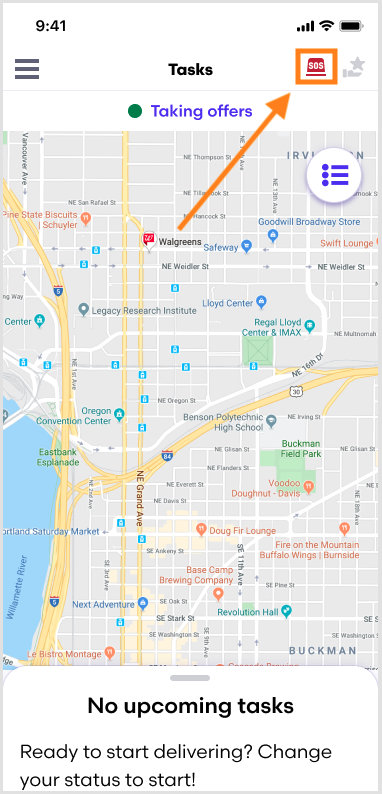 How can I learn more about these services in the Grubhub for Drivers app?
From the main menu, tap Help > Tutorials > Safety Services to view a safety lesson regarding RapidSOS.
Why should I call 911 inside the app instead of on my own?
Using this feature allows you to remain in the app so you can get faster service. The app will automatically provide crucial information to the emergency services to save time. You are also free to call 911 outside of the app if you would prefer to do so

.
When should I NOT use the safety services?
You should only use these services if you feel unsafe or require emergency assistance. For all other issues, please contact Driver Care. For live order issues, contact Care directly through the app , either by phone or chat. For anything else please fill out this driver support form.
When will these features be available in my market?
We are rolling out these features to all available markets over the next few months. These features may not be available in certain markets, subject to service coverage by our third party partner, RapidSOS.
If an order is canceled during an emergency use case, will I still be paid?
You will be paid for a portion of the offer based on where you are in the delivery process.
If I receive an error message when using these services, what should I do?
If you receive an error message and need emergency services please leave the app and dial 911 directly.
If I used the swipe to call 911 service and was put on hold, why did that happen?
The service connects you to 911 and shares your information as soon as the operator picks up. Just as if you had called outside the app, you may have to wait for an operator to answer.
How can I tell that I am receiving a call or SMS from RapidSOS?
RapidSOS text messages will be received from

+1(845)613-9993

. Phone calls from a safety agent will be received from

+1(866)306-1331

. We suggest saving these numbers as contacts so you can identify them as calls from RapidSOS.